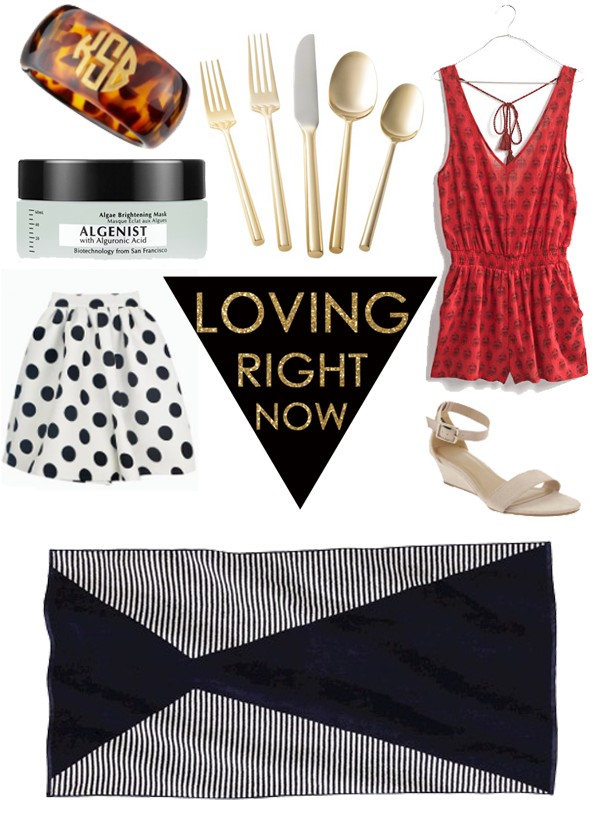 (click the + sign to shop!)
What I'm loving this week...
I received this
Algenist Algae Brightening Mask
in my Lucky FABB gift bag, and I'm officially hooked. It's really made a difference in the brightness of my skin, and I think it shrinks my pores magically, too!
I LOVE the
gold flatware
trend that's happening at the moment, but I know that I'd probably eventually tire of a set, so I wouldn't want to spend a lot of money.
This set from
Target is only $20 a setting, which is a relative steal when it comes to tableware!
It's been a whopping 95 degrees for the last two days, and since our apartment is lacking in AC, I'm all about wearing the lightest clothes possible.
This romper
would be the best for hot summer days!
Sometimes a girl doesn't want to wear full-blown heels, but want just a touch of extra height, right? These
Old Navy sandals
are a steal at $29, and I guarantee you'll wear them all summer long!
Every time I look at anything in a polka dot print, I smile, and I firmly believe your clothes should make you happy, which is why I love this
polka dot skirt
! (Only $33!)
I'm planning on spending a lot of time at the beach this summer, and I've yet to come across a beach towel as chic as this
Nate Berkus for Target
stunner.